After we started our Hack-the-Planet podcast and the www.hack-the-planet.tv project, Daniel, co-host of the Hack-the-Planet podcast always introduced me with "Andreas from the Hack-the-Planet podcast".
What should I do? The only way out of this misery is to update my blog's domain once more. The second time this year. The last time I hope. This will be probably much easier than changing the introduction of our podcast. That's already a running gag, I am afraid.
So I move from try-catch-finally.net (which was based on my strong .NET history) to www.hack-the-planet.net.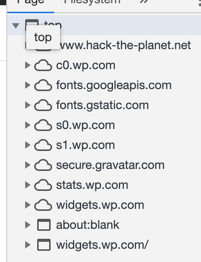 While moving the domain, I also do have a completely different goal. I will turn around each and every bit so this blog, hosted on a WordPress installation, will finally load only bits and bytes from my server.
Currently, it is an utter nightmare where this blog is loading files from. I will probably break one or another source while doing this, however, I have achieved this goal already for a few websites hosted by me.