While preparing some demos to show cool stuff at PDC 05 I installed the hot new DirectX SDK Update August 2005. Unfortunately, VS 2005 does not like the update. After starting my already testet applications using DirectInput an Exception occured. A LoaderLock was detected… what the heck?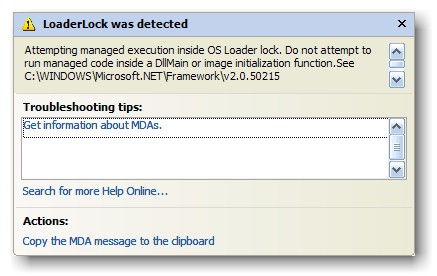 Actually, you can find something about this issue in the Visual C++ 2005 Library and Runtime Enhancements transcript. Also Tone Engel has found this isue already and posted the solution in his blog.

Just set a new string value mda = "0" under HKEY_LOCAL_MACINESOFTWAREMicrosoft.NETFramework. Looks like it does not solve the problem, but at least the error message disapears.