In case you are using the HTC Touch Pro or DHTC Touch Diamond, get your hands on the demo version of GScroll. Simply copy the .cab file to your device and start it from there. It runs for five minutes only, but this should be enough to convince you to get this tool.
It makes use of two of the built-in sensors of your HTC Touch Diamond/Pro to navigate in applications. The nice but less useful one to the Tap & Tilt functionality. Double-tab the center wheel and tilt the device to navigate within your applications. The more interesting one is the Swipe control.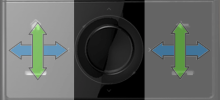 By swiping your finger over the buttons you can navigate left/right and up/down. This becomes very handy e.g. using the photo and video collections. Using the touch screen there often causes the touch screen to recognize the swiping as a tap, opening the photo. Also navigating within Windows folders becomes quite comfortable.
A further feature is to assign the buttons to additional programs. However, this means not by pressing the button. It means by tipping the buttons. Once, I received the device I was quite frustrated to have only limited buttons on the device, compared to my previous devices.
How does it work: The device has not only the resistive touchscreen, the button panel is also a capacitive sensor which causes in fact that the navigation wheel works.
With a price of $4.99, there is no reason to support those guys in buying a copy.