There is an urban legend that Google Calendar Sync would not run on Windows 7. Indeed, if you follow the installation instructions Google Calendar Sync will first ask you for your credentials and consequently fail to connect to Google Calendar. In the following you'll find an solution how to use Google Calendar Sync with Microsoft Outlook 2007 on a Windows 7 system that that is provided under a works on my machine premise.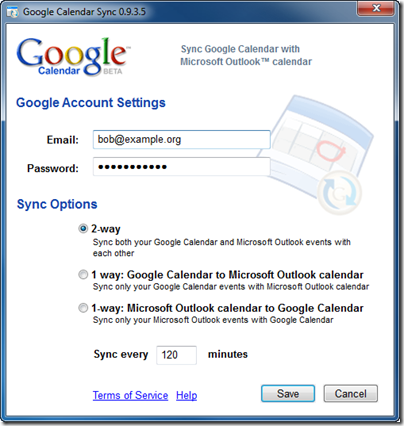 Once saved, Google Calendar Sync will try to connect but fail with error 2006. There is not many information about this error beside various frustrated users ranting about this and some statements that the current version of Google Calendar Sync (0.9.3.5) is not supported under Windows 7 yet.

In the current case we will even run Google Calendar Sync on a Windows 7 64-bit system. Before you continue, make sure you exit Google Calendar Sync. First of all open a Explorer window and navigate to C:Program Files (x86)GoogleGoogle Calendar Sync or C:Program FilesGoogleGoogle Calendar Sync on a 32-bit Windows 7 system.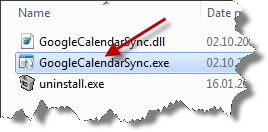 Right click on GoogleCalendarSync.exe and select Properties. Now select the Compatibility tab, check the Run this program in compatibility mode for and choose Windows Vista (Service Pack 2) from the drop down list. Click on OK and restart Google Calendar Sync either from your desktop icon or from the start menu entry.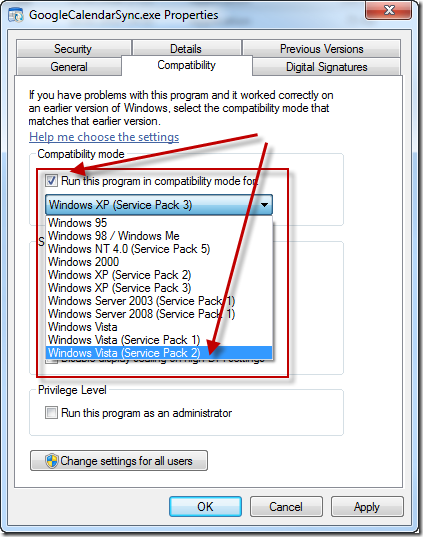 Once restarted you can happily sync Google Calendar with Microsoft Outlook 2007 on (even a 64-bit) Windows 7 system.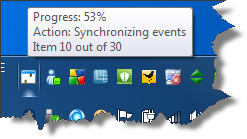 The Compatibility mode of Windows is a great feature to make usage of legacy programs that have not been or will never bee updated to the latest Windows version. Since Windows 7 even mode modes (including Windows Server) back to Windows 95 are supported. The number of supported versions might vary depending on the Windows 7 version you use, however, the Vista and XP mode should always be available.