The visual preview of files in Windows Explorer is one of the great features of Windows when looking for a certain file. Unfortunately, with Windows Vista Microsoft disabled the preview for Windows Metafile Format (.WMF) and Enhanced Metafile Format (.EMF) files. As I needed t work a lot with EMF files during my latest book project with Springer, I was looking for some way to enable the preview of the file types mentioned above in Windows Explorer.
Fortunately, there is a great plugin called emfplugin written by Daniel Gehringer to enable the preview. The plugin is available for x32 and x64 machines and should work on both, Windows Vista and Windows 7. Once installed (and rebooted) the Windows Explorer is capable of displaying EMF and WMF files.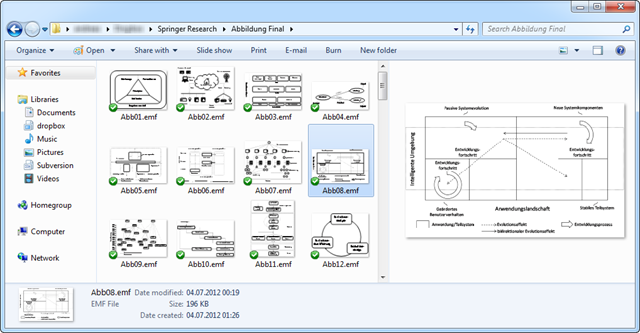 The plugin is licensed under the MIT license, so its safe to go with it. At the very end this raises the question why Microsoft did actually disable the preview for two formats developed by Microsoft itself and whether they might work with Windows 8 again.