For quite a time, Pixeur became one of the tools I almost can't work without anymore. It is a lightweight and free color picker provided by Veign.
First of all, it's easy to pick a color from the standard color palette. A great feature is the automated calculation of HSB, RGB and CMYK and Hex (the numbers used in HTML code) values. Which value you ever need, Pixeur does calculate the corresponding color codes.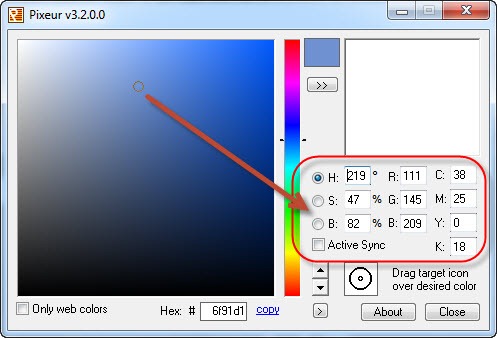 The ultimate uber feature is the screen picker tool. You simply drag and drop the pointer to the pixel on your screen you want to know the color code from.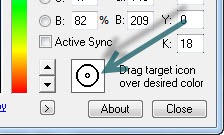 Drag and drop the target icon to whatever pixel on your screen to get the exact color value. In addition a zoomed area of the hovered are is shown in the corner of your screen which makes it quite easy to pin down a single pixel even on some kind of retina like displays.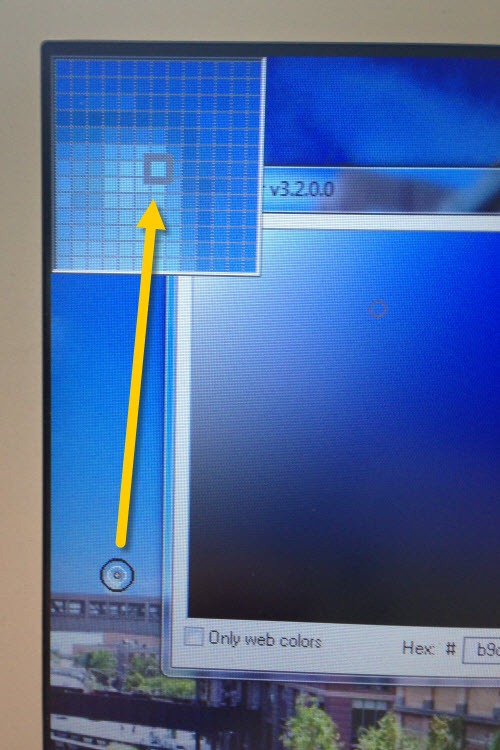 It's very simple to use and so far I haven't had any issues with the tool. Amazingly, the tool worked since ever on various Windows versions I used so far including Vista and windows 7 without the need of updating.
Pro:
easy to use
low footprint (~2MB)
provides color values in various formats
screen wide color picker
zoom of the hovered area when picking a color
free (i.e. no money, cash, PayPal or diamonds needed)
Contra:
The tool is so great, I usually forget about it until I need to get a color code or pick some pixel's color from the screen. It's one of the first tools I install after setting up a new machine, and there's the problem – if you don't know where to find it, it's hell of a job to find the download site.
There are probably a dozen of similar tools out in the wild, and each and every major drawing program probably provides such features. However, as a free, and very easy to use alternative, give it a try.