A couple months ago, we got a second 24" monitor for each developer at the company I worked for. At that particular time, some of the developers still used some old 15" monitors as a second monitor. I spend quite some time to explain why it is important for companies to provide a good great work experience. You should aim at making your employees feel comfortable at work. Following Starbuck's a third place between work and home employers should try to keep the workspace as attractive as possible to their folks. Starbuck's would not succeed with over 17,000 stores if the place where you can stay would not be attractive, though.
Said that, below is what my current home office workplace looks like right now. My Almost-Retina-But-Then-Again-Bought-To-Early-MacBook Pro, two external monitors with a total resolution of 1920×1200 + 1680×1050 + 1920×1200 and an Icy Box
for easy swapping external 2.5" and 3.5" HDD drives and the ElevationLab low friction iPhone dock, I backed at Kickstarter.
I run both, Windows 8 and MacOS Mountain Lion on my MacBook, depending what I need to do, I switch between both operating systems, all peripheral devices fully supported.

To get the third monitor working, I recently got a Kensington Universal Multi-Display Adapter from Amazon.de. Before attaching the device, make sure to download and install the latest drivers (both, for Windows 8 and Mountain Lion) from the DisplayLink website. If you do not install these drivers on Windows 8 beforehand, you might experience problems as there are already drivers offered by Windows Update. DisplayLink already provides support in case you experience any issues here.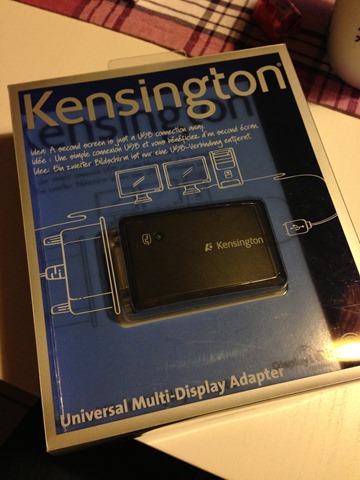 I was quite surprised, DisplayLink already offers Windows 8 drivers. Quite skeptical about the external graphics card using USB as I read a lot about latency and quality, both, the quality of the device as well as the support for Windows 8 and Mountain Lion are just great. I do not experience any latency (I do not play games on the external monitor, though) so far and the quality of the output absolutely satisfying.