In my current position, my co-workers are very disrespectful considering my time. Therefore meetings are often scheduled over lunchbreak or they intercept one in front of the elevator absorbing your lunch break starting with the words "Do you have a few moments…?"
Eventually, I start to bring in my own kind of "fast food" in the form of smoothies. As I am very bad in memorizing recipes, I started writing them down in my blog. Feel free to experiment and comment on them.
For the logistics I started to recycle true fruits bottles which are available in various sizes.
So my first try, I call Blue Dragon with the following ingredients: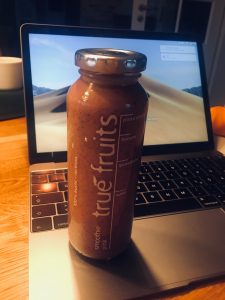 1 handful of frozen or fresh blueberries
2 apples
2 bananas
1 carrot
1 slice of honey melon
1 tbsp of almond butter
100 ml of almond milk
some water
As tomorrow is my first working day after the christmas brea, I am looking this one is getting me through the day…