If you are using your Windows machine for a while, it is inevitable that you install a whole bunch of Software. Especially a developer machine might end up with a lot of application and tools, you use for work or evaluation. This is the first article in a series of steps how to clean up your Windows machine, and to optimize your personal workflow.
Some tool that come with support for a particular file extension might extend the Windows Explorer 'New' sub menu. In my case I currently ended up with about 20 entries, while I regularly use only two or three of them. Most if them I barely touch. To minimize noise and to speed up your personal workflow you might want to get rid of some of them and renaming others. E.g. all Office documents are usually prefixed with 'Microsoft' while you might just want to see them as 'Word Document'  or 'Excel Document'.
To modify these entries, you eventually would use the Registry Editor. Each entry is located in the registry using its own key at:
HKEY_CLASSES_ROOT.[fileExtension]ShellNew
However, maintaining this list is rather time-consuming task and no fun at all.  After some investigation I found a very nice freeware tool called ShellMenuNew from NirSoft that eventually does the job for you. It' is a small tool which does not need to be installed and can be used straight away.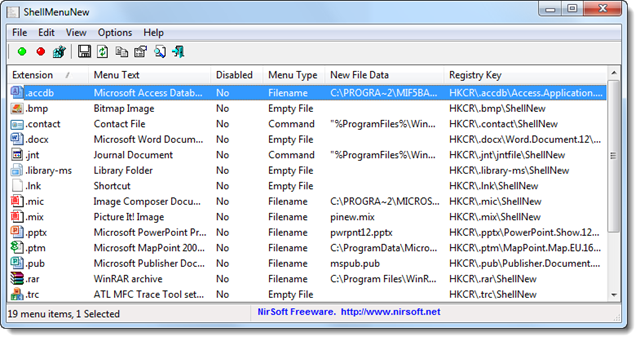 By right-clicking any of the entries you can select 'Disable Selected Menu Items'. Once you open up the 'New' submenu in Windows Explorer the menu should be look much tidier.
In case you change your mind, you can always start ShellMenuNew again and enable the file extensions again. The tool worked nicely on my x64 Windows 7. Regarding the author's website it should also work on Windows 2000, Windows XP, Windows Server 2003/2008, and Windows Vista. Solved this task,  the renaming of the entries is still pending.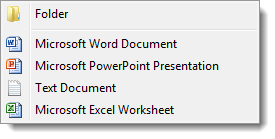 Also here a small freeware tool comes in handy. Default Programs Editor provides a set of functionality to edit file type settings, autoplay settings and default programs settings. Also this tool can be sued straight away and does not need any installation.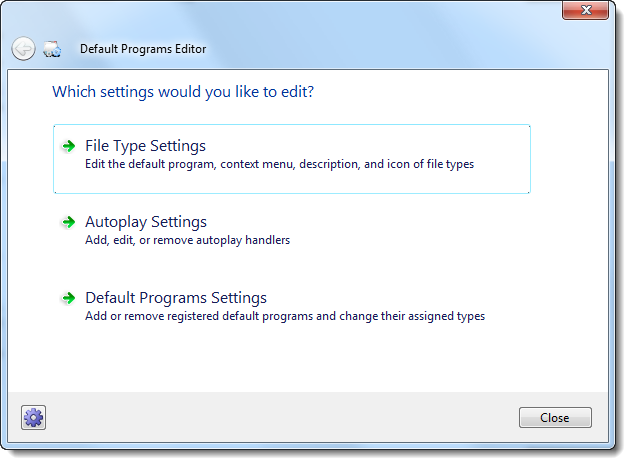 Default Programs Editor lets you easily change any kinds of associations with respect to files extension. Using the 'File Type Settings' you can select the 'Description', search for the file type you want to rename and finally change the file type description.
Using those two tools it is possible to minimize noise in your working environment without hacking the registry manually.