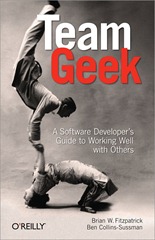 Some weeks ago, I came across a quite interesting title from O'Reilly Media, Team Geek by Brian W. Fitzpatrick and Ben Collins-Sussman. There are quite a lot of books out in the shelves trying to explain how to behave as well as how to improve your life as a professional programmer. However, most of them are either hard to read, difficult to understand or just boring while repeating stereotypes over and over.
Team Geek is quite different, though. It seems the book benefits from the experience of the authors. Both come up with a bunch of experience working at Google and probably dealing with quite a lot of people during their professional life.
The Content
Six chapters, each about 20 pages – some with topics you probably never thought about and others just confirming what you ever thought of but never believed in. And that's basically what you most benefit from. The book shows you are not alone with your thoughts how teams and collaboration should work. It's about you as a developer (as a human thing) but also working in a team of geeks (often not understood as humans at all).
The Truth
Based on my very own experience during my professional life, I have to acknowledge almost everything the two authors write is true. Considering the fact, the book is written based on an US American context, with different culture, people and background, most of the topics are true for European developers as well. It seems the kind of human becoming a developer is the same all over the world. Whatever if it was during my time in UK or Germany, the you can apply many of the patterns provided in the book to your daily job.
The Reader
Professional developers, managers, team leads, architects, open source developers and even designers could benefit from the book. However, I would definitely recommend to already provide some experience in this kind of business to fully understand (i.e. to feel with the authors) what's written and to benefit from the book. Not sure if beginners (e.g. students) or juniors can benefit from the book. Eventually, the reader will find some hints how to improve his or her daily life within a world of geeks and nerds and how to strengthen the very own standing within the company or group.
Pros
well written and easy to read
chapters of the right size to read during an evening
nice illustrations (not a reason to buy but really nice to look at)
great content
references for further reading given
Cons
terrible to useless index
not suitable for juniors and beginners (but that's fine)
Where From
You can order the paperback or the Kindle version from Amazon or get the entire set of digital formats directly from O'Reilly.