Since working more more in virtual machines and processing large amounts of data, I was looking to upgrade the memory of my early 2011 15" MacBook Pro currently utilizing 4GB of RAM. After digging through hardware specs and various manufacturer site, I decided to pick a 16GB kit from Crucial.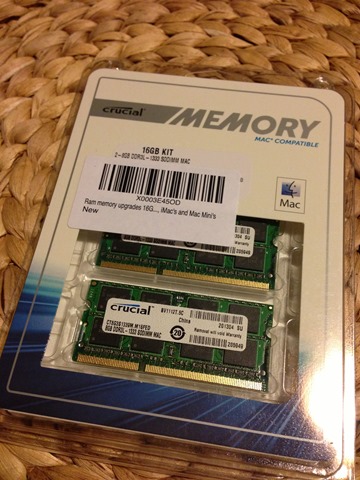 The specs of the memory chosen are
Part Number CT3327367
Module Size: 16GB kit (8GBx2)
Package: 204-pin SODIMM
DDR3 PC3-10600
CL=9
Unbuffered
NON-ECC
DDR3-1333
1.35V
1024Meg x 64
The only thing you need is a Phillips #0 screwdriver to remove the bottom of the MacBook.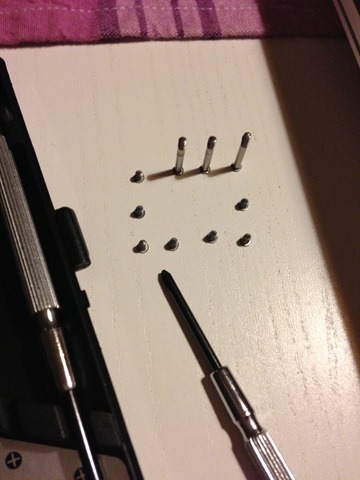 Old memory out, new in is pretty easy, both modules are on top of each other.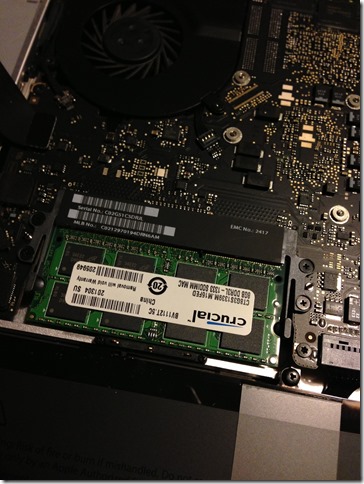 Once upgraded, I had to check the Windows Experience Index, if the new memory did change anything considering the performance, Actually the subscore for the memory went up from 5,9 to 7,6.


While I bought the MacBook, more than 4 GB was not a requirement. In addition the model is officially supported by Apple only up to 8 GB of RAM. However, the hardware can handle 16GB which now just comes in quite handy.