Recently, I started to convert some of my old media files using Handbrake to be streamed using a TwonkyMedia Server to my Xbox 360. After converting some of the files, I realized my Xbox won't play the files due to a status code 69-C00D10E0: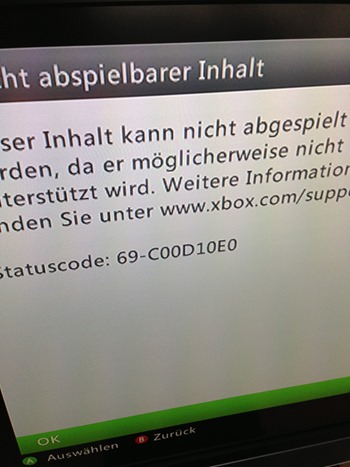 The Xbox support forum provides an entry exactly for this issue, however, the information given there is not quite helpful. That's what they say (to be honest, that's what I already had in mind):
Error code 69-c00D10E0 is preceded by the following message:

Unplayable Content
Status Code: 69-c00D10E0

Problem

If you're seeing this message and error code, it means that the file is too large for streaming, the file may be corrupted, or the codec needed to play the file is missing.
More helpful would be a list of supported video and audio codecs, a list of not supported combinations or similar. Therefore, I had to dig somewhat deeper and to figure out how to work around this issue.
Choosing the Right Preset
I used a earlier version of Handbrake before, providing a dedicated Xbox preset. Version 0.9.8 of Handbrake does not provide such an default preset anymore. Instead you can chose Normal or High Profile from the Regular section for playback with Xbox 360.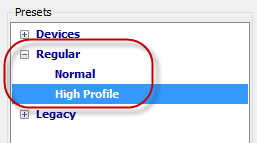 Normal should work fine with he Xbox 360 System Player. If you are looking for a better video quality, choose the High Profile, though. Using High Profile, by default, the checkbox for Large file size is enabled. Eventually, that's the problem, Xbox 360 System Player cannot play the streamed file as files generated with this flag contain 64-bit pointers, allowing a file size larger than 4GB, which the player simply cannot deal with. Therefore, just uncheck this one to generate Xbox 360 System Player compatible files.

Choosing the Right Audio Track Order
Another issue with the Xbox 360 Player is its inability to let you choose the audio track to play. I was wondering quite a while, why some encoded videos where played using the wrong audio track and – even worse – Xbox does not let you choose another track.
After some trial and error, I figured out, Xbox is playing the last track in the list of audio tracks encoded by Handbrake. You maybe haven't realize this at all as native speaker only interested in the English track anyway.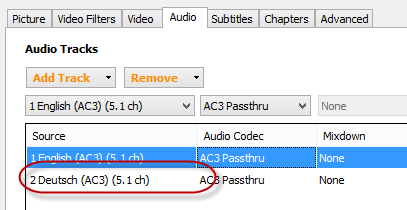 Eventually, the secret how to use Handbrake to encode media files or you Xbox is to put the audio track you want to play on Xbox System Player on the very bottom of the list.
Keeping these two settings, you generate perfectly streamable media files to be played with Xbox 360's System Player.